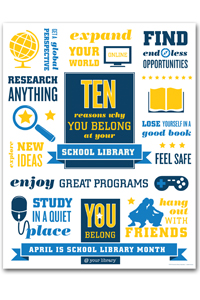 Greetings and Welcome to the Library Media and Technology Center!
The mission of the Library Media and Technology Center is to be the heart of West Gadsden High School by working cooperatively with teachers and other staff to help our students become independent and discriminating users of resources, while fostering a lifelong love of learning through reading.
The Library Media & Technology Center is open for students and staff from 7:30 a.m. to 2:45 p.m. Our Center has more than 12,000 books, DVDs, and videos available for check-out. Materials are checked out for two week periods. The Center also has both educational and popular magazines for browsing or research while in the center.
There are 20 computer stations for students and staff with access to Destiny (Online Catalog System), which lists all available titles maintained at WGHS, iReady, FCAT Explorer, TestNav, and Internet usage. In order for students to access the Internet they must have a Parent/Guardian signed permission slip on file in the Library Media and Technology Center.
"My alma mater was books, a good library.... I could spend the rest of my life reading, just satisfying my curiosity." ¯ Malcolm X
| | | | |
| --- | --- | --- | --- |
| | | | |
| | | | |
| | | | |
| | | | |